WOMAD Foundation 40th Anniversary Project Grant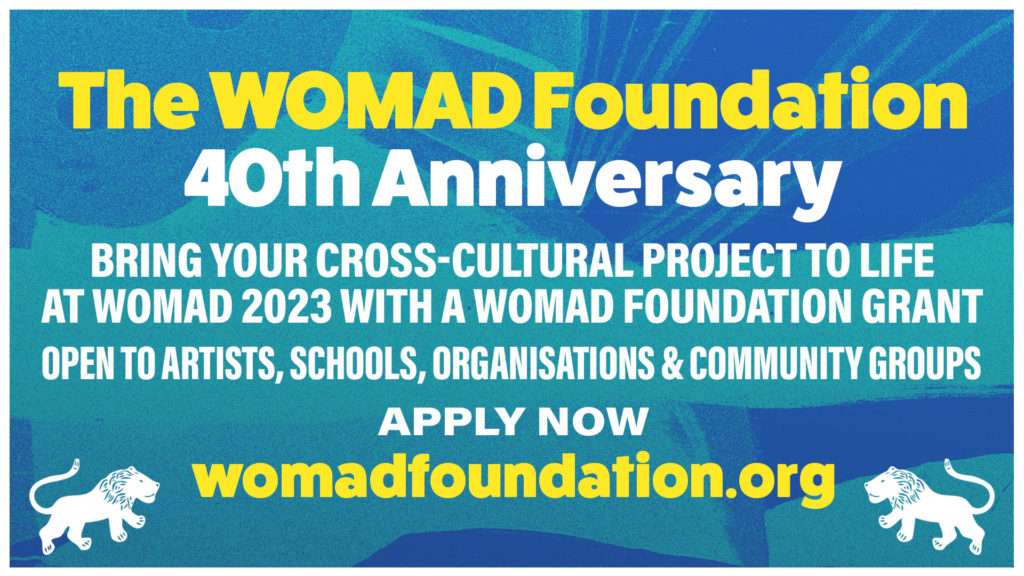 This year WOMAD will be celebrating 40 years of WOMAD festivals worldwide. To mark this milestone the WOMAD Foundation has created a fund of at least £15,000 for an innovative and exciting project which will culminate in a performance or presence at the WOMAD Festival in 2023.
Project leaders e.g. artists, community groups, schools, organisations, should devise a project which involves people from different cultural traditions or social backgrounds working with artists, e.g. musicians, dancers, singers, visual artists, to create a short performance, a film or an exhibit.
"If we truly want a world full of global citizens, we have to start integrating the world into all our lives."
(Peter Gabriel – Founder of WOMAD)
The project should:
Celebrate the arts, e.g. music, song, dance or the visual arts and include artist/s from different cultural traditions.
Celebrate 40 years of WOMAD by bringing together people from different backgrounds, e.g. different cultural traditions, social backgrounds, ages, special needs, racial heritage, asylum statuses or includes those living or working in a variety of contexts, e.g. prisons, hospitals, social care establishments and schools with a high rate of eligibility for free school meals.
Facilitate collaboration in the creative process between a community and artists. Celebrate the differences and skills of participants by creating a piece (performance, film or exhibit) together.
The successful project will have the opportunity to showcase their creation at the WOMAD Festival in 2023. The showcase piece should excite and captivate the WOMAD Festival audience.
Who can apply?
Artists, schools, organisations, community groups – anyone who would like to deliver an innovative and exciting school or community project, which can also be show-cased at WOMAD Charlton Park 2023. Applicants should be excited by taking creative risks for the common good and demonstrate a record of successful delivery.
What is the application process?
Forms for applications are available on the website https://womadfoundation.org. Applications must arrive by 11th November 2022. Shortlisted applicants will then be invited to discuss their projects with the trustees whose decision is final. The trustees will make their final decision by 16th December 2022. For an informal discussion about your ideas with one of the trustees contact George Casley george@casley.net, Mandy Adams mandy.adams@womad.org or Anne Goldsworthy anne.goldsworthy@btinternet.com.
See here for examples of previous successful WOMAD Foundation projects.